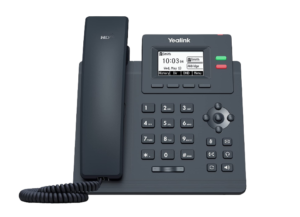 The Yealink IP Phone T31P is a VoIP phone that is designed for use in business environments. It is a desk phone with a monochrome display and a range of features that make it easy to use and manage. Some of the features of the Yealink T31P include:
Support for up to 2 lines with separate phone numbers
3-way conferencing
Speakerphone with HD voice
Call hold, transfer, and forwarding
Speed dialing
Redial and call waiting
Call history and contact list
Headset support
Volume control
The Yealink IP Phone T31P Dubai is a reliable and easy-to-use phone that is well-suited for use in a variety of business settings. It is a popular choice for companies in Dubai and around the world.
The Yealink T31P is a SIP-based IP phone designed for use with a VoIP (Voice over Internet Protocol) system. It is a mid-range phone that is suitable for use in small to medium-sized businesses and offers a range of features including HD voice, multiple lines, and support for a range of audio codecs. The T31P is also expandable, allowing you to add additional modules such as an LCD expansion module or a Bluetooth module. In Dubai, the T31P can be purchased from a number of suppliers or directly from Yealink. It is important to ensure that the phone is compatible with your VoIP system and that you have the necessary infrastructure in place to support it.
We bring to you the very best deals on the latest products from Yealink. We are offering you the safe project with Yealink IP Phone in Dubai.
Click here to request a quote for our products.